Looking for the best washing machine in UAE? There are a huge collection of washing machine and brands but you need to choose the best machine for you. That's why I am here to find out the best one for you. I did lots of research to find out the top 5 best washing machines for you.
Washing machines are now an essential household appliances in everyday life. It has made our daily life much easier than before. In the modern world, the demand for these washing machines is increasing day by day.
In this article, you will get the top 5 best washing machine lists that will help you to choose your best machine without any hassle.
List of Best Washing Machines in UAE 2024
---
1. Super General 6kg Front Loading Washing Machine
Last update on 2023-12-10 / Source: Amazon
Eco Wash:-For an optimal washing experience, the Eco Wash mode is ideal. This mode ensures that the correct amount of water and heat is automatically used.
Quick Wash: The 15-minute quick wash feature will help wash clothes that don't have too much dirt in a very short time, and this mode will be even more helpful during the summer.
Child Lock:- It has the Child Lock feature that will help you to lock the washing program so that child can't change the mode.
Self-Clean:- The self-clean mode keeps your washer always neat and clean and you will get a better washing experience.
Extra Rinse:- The Extra Rinse program will help you wash your clothes without detergent after washing finished So that you can avoid skin problems or allergies.
Spin speed:- This machine offers a gentle spin speed of 1000 RPM.
Warranty:- The Super General 6 kg Front Loading Washing Machine is considered the top choice for washing machines and comes with a 1-year warranty.
Key Features:
Washes up to 6 kg of laundry in a single load
Up to 1000 RPM spinning
There are 23 different programs available to make sure your laundry is taken care of properly.
The LED-Display provides an easy way to keep track of important information.
During washing cycles, it's pleasantly quiet.
Water and Energy Efficient Design
ESMA's Four-Star Score
Pros
Energy-saving and efficient.
Very effective and easy to use.
the quality is good, especially for the price.
Easy overview with the LED-Display.
Cons
A bit of noise especially during spinning.
2. Samsung 8kg Front Load Washing Machine
Last update on 2023-12-10 / Source: Amazon
This machine is equipped with innovative technology that allows you to clean even at low temperatures, without the need for harsh detergents.
EcoBubble technology makes washing easier by transforming your detergent into bubbles that quickly penetrate fabric and remove dirt and stains.
Hygiene Steam technology is revolutionizing the way we do laundry. Samsung's 8Kg Front Load Washing Machine comes equipped with this innovative feature, giving you a deep and hygienic clean without the need for pre-treatments.
This advanced technology uses steam to penetrate fabrics, killing germs and bacteria to help keep your clothes looking fresh and clean.
This Washing Machine With Ecobubble, Hygiene Steam And Digital Inverter Technology is an excellent choice. Boasting an impressive range of features as well as a manufacturer warranty of at least one year, this appliance will deliver spotless results each time.
It comes with Drum Clean, a special feature that helps keep the inside of your washer hygienically clean by removing up to 99.9% of odor-causing bacteria from the drum.
it also comes with the innovative StayClean Drawer to keep your detergent clean and hygienic. This advanced drawer prevents the wastage of detergent by ensuring more of the valuable liquid is used in each wash cycle.
This 8 kg Samsung washing machine comes with 1400 RPM spin speed to dry your clothes as soon as possible.
Samsung 8Kg Front Load Washing Machine comes with 1-year manufacturer warranty.
Pros
Quite and stable with 1400 RPM spin.
the washing programs are adjustable.
consumes less water and energy than other brands.
High Technology Valued for Money Product.
Cons
In the time of spinning can be a bit noisy.
Nothing wrong with quality.
3. Hisense 8Kg Front Loading Washing Machine
Hisense 8Kg Front Loading Washing Machine 1200 RPM Silver Model WFPV8012EMT -1 Years Full Warranty.
Hisense 8Kg Front Loading Washing Machine 1200 RPM Silver Model WFPV8012EMT -1 Years...
A feature allowing you to load the machine and select your preferred washing end...
We focus on developing premium washing machines, with superior-cleaning and...
Hisense steam care technology releases massive amounts of steam from the bottom of...
The Hisense Drum Clean allows you to keep your washing machine in the best condition...
Last update on 2023-12-10 / Source: Amazon
Delay Start Function:- The Hiseen washing machine takes convenience to the next level with its delay start function. By loading your laundry and selecting the desired washing end time, you can take advantage of off-peak utility rates or ensure a tranquil environment by avoiding any unwanted noise during specific times of the day. This feature allows you to effortlessly plan and organize your laundry routine based on your preferences and requirements.
Premium Build and Warranty:- With the Hisense 8Kg Front Loading Washing Machine, you can enjoy the peace of mind that comes with a one-year full warranty. This warranty exemplifies the brand's dedication to exceptional quality and durability, assuring customers of a reliable and long-lasting appliance. From its sturdy construction to its robust components, every aspect of the Hiseen washing machine is meticulously crafted to withstand the test of time.
Superior Cleaning Performance:- The Hiseen washing machine is engineered with a primary focus on superior cleaning performance. With each wash cycle, your clothes are effectively cleaned to perfection. The appliance includes specialized functions such as baby care, quick wash, and drum clean, enhancing the efficiency and effectiveness of every wash.
Steam Care Technology:- The Hiseen washing machine incorporates cutting-edge steam care technology, setting it apart from other appliances in the market. This unique feature releases a significant amount of steam from the bottom of the inner tub, ensuring allergens are effectively removed from your clothes. Not only does this contribute to a healthier and more hygienic laundry outcome, but it also guarantees a refreshing fragrance that elevates your laundry experience to new heights.
Drum Clean Functionality:- Hiseen washing machines have a feature called Drum Clean that cleans the drum at 95℃. This feature removes dirt and buildup, which helps the appliance last longer and makes doing laundry easier.
Snowflake Shape Drum Design:- The Hiseen washing machine boasts a revolutionary snowflake shape drum design that goes beyond just cleaning clothes. This innovative feature not only enhances the washing performance by thoroughly cleansing each garment but also offers enhanced protection and care. With the snowflake shape drum design, your clothes receive a gentler wash, ensuring their quality and longevity are preserved.
Key Features:
Schedule wash cycles for utility savings or noise reduction.
Durable design backed by a comprehensive one-year warranty.
Baby care, quick wash, and drum clean functions for optimal results.
Releases steam to remove allergens, ensuring healthy, hygienic clothes.
Maintains machine hygiene for long-lasting performance.
Enhances cleaning, and provides extra protection for clothes.
Pros
Best quality for a reasonable amount
The washing machine is simple, sleek, and aesthetic.
Very simple to use and aesthetically beautiful.
Cons
A bit loud, but great washing machine
4. Samsung 9kg Front Load Washing machine
Last update on 2023-12-11 / Source: Amazon
Samsung's 9Kg Front Load Washing Machine with Eco Bubble technology is the perfect solution. Not only does it feature AI Control, but also adds wash for efficient and powerful cleaning performance.
With Eco Bubble, detergent is turned into bubbles that quickly penetrate fabrics in order to deliver a thorough clean, even at low temperatures.
This top-of-the-line washer features cutting-edge technology that makes it easy to add items while the washing cycle is already in progress – no need to stop the machine or wait until the next load! Plus.
This machine features a new Hygiene Steam cycle, which uses steam to give your clothing a deep and hygienic clean without pre-treating them beforehand.
the Hygiene Steam cycle helps to reduce the amount of detergent needed when washing clothes by up to 50%, making it more economical and environmentally friendly too.
The Samsung 9kg Front Load Washing machine comes with 1400 RPM spin speed.
This is one of the best washing machines in UAE by Samsung washing machine, you will get 1 Year Manufacturer Warranty.
Pros
Can be connected to Wifi
It Saves Time on Smaller Loads
Have Eco Bubble technology
simply and quickly add extra items.
Deep hygienic clean with steam.
5. Midea 6KG Front Load Washing Machine
Sale
Last update on 2023-12-10 / Source: Amazon
The Lunar Dial is designed to make operating the machine easier. The knob acts as the control center, combining the functions of both the knob and screen. Simply focus on the middle of the machine and select any program. You can view the program's information at the same time.
This washing machine has a front-loading design and can hold up to 6 kg of laundry. It features 14 different cycles and 15 washing programs to choose from.
Introducing the 15-minute Quick Wash! This user-friendly and energy-efficient feature ensures that your clothes are left clean in no time.
Make use of the delayed start option and get your laundry done while you sleep. This way, your favorite clothes will be ready for you in the morning.
Child lock mode disables all buttons except power to prevent accidental operation by children during wash cycle.
Run an extra rinse cycle for sensitive skin or large loads to remove all detergent residue and thoroughly clean clothes.
Key Features:
Integrated knob and screen for easy operation
6 kg capacity, 14 cycles, and 15 washing programs
15 Min Quick Wash for fast and efficient cleaning
Delayed start option for laundry convenience
Child lock mode to prevent accidental operation
Extra rinse cycle for thorough cleaning and sensitive skin.
Pros
Solid and smooth electric engine
Soundless
Energy saving
Programmed and easy to move
Have super cleaning mode
Cons
Sometimes not good at spinning
Average quality
Washing Machine Capacity Guide for family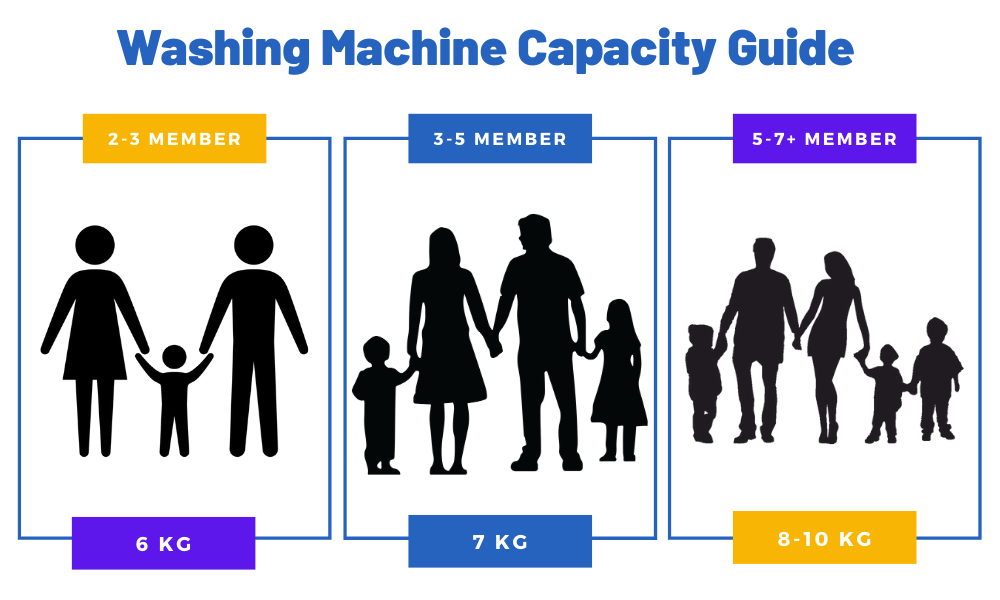 Below is a chart list of approximately how many T-shirts you can wash in a washing machine of any size.
This chart will help you to choose your washing machine according to your needs.
Read Also: Top 5 Coffee Machine In UAE 2024
Read Also: Top 5 Treadmills UAE 2024
| Drum Capacity | Wash Load | Family Size |
| --- | --- | --- |
| 5 kg | 25 T-Shirts | Individual |
| 6 kg | 30 T-Shirts | couple |
| 7 kg | 35 T-Shirts | Small family |
| 8 kg | 40 T-Shirts | Medium family |
| 9 kg | 45 T-Shirts | Large family |
| 10 kg | 50 T-Shirts | Large family |
| 11 kg | 55 T-Shirts | Very Large family |
| 12 kg | 60 T-Shirts | Very Large family |
Different types of washing machine
Different types of washing machines are available in the market and different machines have different functionality. You should choose what you are looking for.
There are three types of washing machines which are discussed below. Understand the difference so that you can choose the best one for you.
Semi-Automatic machine:-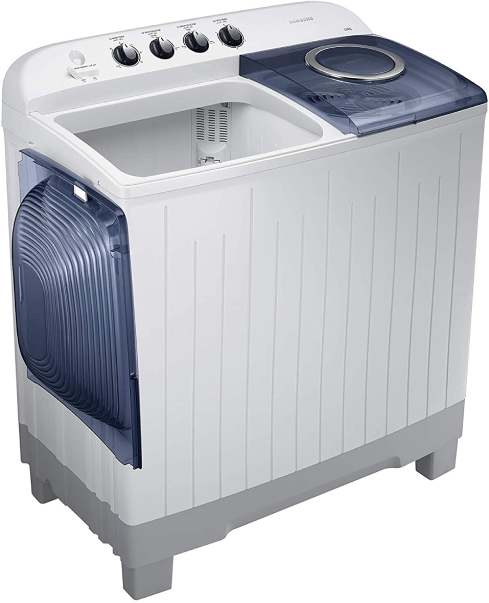 This kind of machine has two tubs, one for washing and another is for drying. When your clothes washing is done, then you need to put it in another tub for drying but you have to do it manually.
This kind of washing machine comes at an affordable price and is easy to use and It consumes very little water and electricity. You can use it anywhere in the house.
Top-Load Automatic machine:-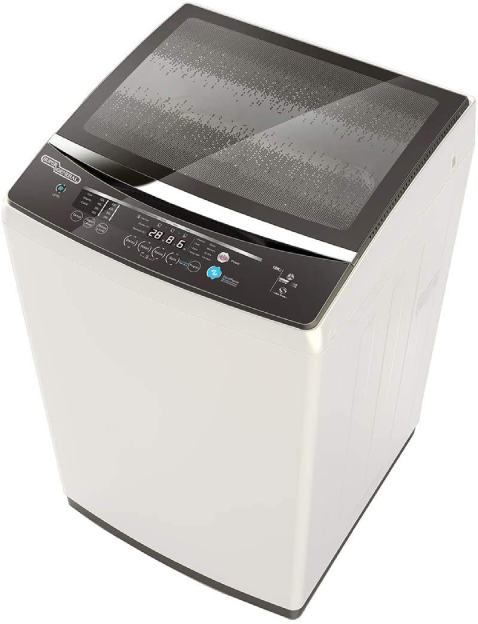 This type of machine loads clothes from above which is why it is called a top-load washing machine. These are fully automatic washing machines.
Top- load machine continuously supplies water which results in higher water and power consumption.
This type of machine is easy to load or unload clothes and easy to handle and comes with an ideal height.
A top-load washing machine's spin speed is 30% slower than a front-load washing machine and it comes at an affordable price compare to the front-load machine.
Front-Load Automatic machine:-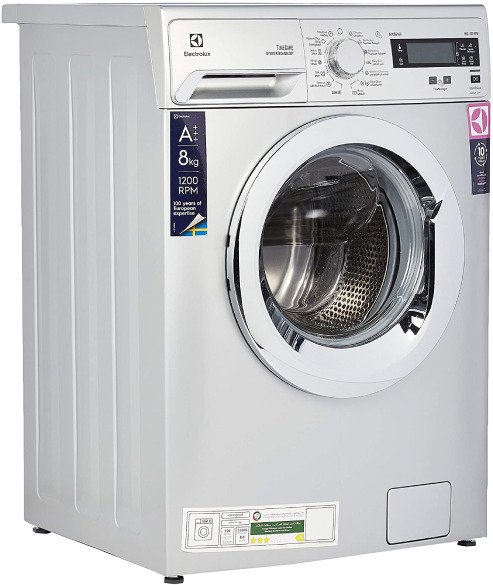 This type of machine loads clothes from the front which is why it is called a front-load washing machine.
This type of machine is a water and electricity-saving machine. These kinds of machines save 40% water.
A front-load automatic washing machine comes with advanced technology. The spin speed of this type of machine is higher than that of semi and top-load machines which results in the drying of clothes in a shorter time.
The water and powder distribution of this type of machine is very good which will give you a great washing experience.
Read Also: Best Dishwasher In UAE
Best Washing Machine 2024 – FAQs
What should I know before buying a washing machine?
Types of Washing Machines
Washing machine capacity
Washing Machine Function types
Things to keep in mind before buying washing in UAE
Try to buy stainless steel tubs
Take a look at the programs you need
Buy with a spin speed of 800-1200 rpm
Choose the best washing machine brand
take a look at the warranty
What is the best washing machine brand in UAE?
LG Washing Machines
Samsung Washing Machines
SuperGeneral Washing Machines
Whirlpool Washing Machines
What is washing machine's spin speed?
The spin speed is calculated by the RPM (revolutions per minute). The washing machine's spin speed is the dryer tub's rotation completed every minute.
How do I choose a good washing machine?
Choosing a washing machine to suit your needs requires careful consideration of various factors. The confusion lies in understanding your needs – do you prioritize certain features like energy efficiency, capacity, or fast wash cycles? Evaluating your preferences against the available options will lead you to the washing machine that best aligns with your lifestyle.
Which company/brand washing machine is best?
Navigating the sea of washing machine brands in the UAE can be challenging tusk. Burstiness comes into play when we consider different reputations and offers from different companies. Things like customer reviews, energy efficiency ratings, and warranty terms contribute to an explosion of information that can help you make an informed decision.
Which is better top or front load?
The decision of whether to purchase a top-load or front-load washing machine comes with various considerations at once. Uniquely, this decision's complexity comes from the different characteristics that each form provides. Top loaders ensure convenience and faster wash cycles while front loader is more efficient and conserves water. Compare the burstiness of benefits provided by each design with regard to your household's needs and preferences in order to make a wise decision.
Why front load is expensive than the top load?
The perplexing question of price difference finds its answer in advanced technology and features integrated in front-load washing machines. Pricing is influenced by factors such as capacity, energy efficiency and additional functionality. Knowing the explosion of features that come with a front-load machine can justify the higher initial investment.
How long do front-load washers last?
Looking at the durability of front-load washers presents a confusing aspect of appliance longevity. Their lifespan is influenced by usage patterns, maintenance, and machine quality. Understanding the explosion of factors that affect the lifespan of a front-load washer ensures a more informed decision when making a purchase.
Which consumes more electricity front load or top load?
The explosion in energy consumption comes to the fore when comparing front-load and top-load machines. Although front-loaders are generally more energy-efficient, the trick lies in understanding your usage patterns. Energy bill explosion can be optimized by choosing a machine that is compatible with your laundry habits and environmental concerns.
Is liquid detergent or powder better?
It all depends on the kind of laundry that is being done. Liquid detergent works more gently at cleaning making it ideal for delicate fabrics. Stubborn stains typically require powder detergent, which can make it a preferable option for heavily soiled items.
How many clothes can be washed in 8kg washing machine?
It depends on the size of the laundry that one fills up the washing machine fully or not fully packed. In most instances, an 8kg wash machine can accommodate anything between 40 and 50 pieces of clothing. However, you can only manage to fit about fifteen to twenty items of big size like bedding and towels into an eight kg machine.
Ensure that your washing machine does not have excess laundry so that it can function well and have clean garments after washing up. In case you doubt what capacity in terms of laundry your 8kg washing machine can carry, you may find the answer in its user handbook or through the producer itself.
Which cleans clothes better powder or liquid?
Additionally, detergent powder is normally less expensive than liquid detergent and it provides a superior cleaning for heavily soiled clothing particularly the removal of dirt and stains. Secondly, it is easier to dissolve cold water than hot water hence a preferential option in cold water wash. Despite this, powders detergent could result in some residue which is hard to get out from clothes hence the reason why one needs to measure and use the accurate quantity every load should receive.
Though liquid detergent may be relatively costly as compared to powder detergent, it can simply be measured. Secondly, this detergent works perfectly in hot or cold water making it a suitable option for any type of washing.
Read Also: Best Pressure Washer UAE
Conclusion
Here I have listed the top 5 best washing machines in UAE 2024. Also washing machine brands, types, and frequently asked questions are discussed here.
I do a lot of research and choose the best washing machines in UAE, you can take these products without any worry.
All the products are very durable and best-selling products in the UAE.